What will you Discover on Rainey Street in Austin?
Posted by Shawn Culhane on Friday, June 5, 2015 at 2:50 PM
By Shawn Culhane / June 5, 2015
Comment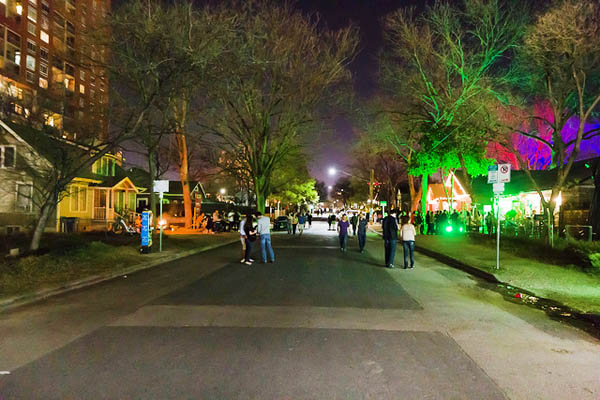 Rainey Street is a top attraction in Austin because there is so much jam-packed into one spot. From the unique Container Bar to the Half Step cocktail bar, it's the perfect street to go for a night out with friends. The family-owned and operated G'Raj Mahal is located there as well as Thursday burgers and brews at NO VA Restaurant.
The street is constantly new bars and restaurant to add to its resume and hanging out here means you are a true Austinite. If you want to dine like a local and enjoy some one-of-a-kind bar and restaurant experiences, check out Rainey Street in Austin where you'll find great options.
Container Bar – 90 Rainey Street
You may have heard of people making homes out of shipping containers but have you seen bars and restaurants using them for shelter? Container bar is one of the newest additions to the street and it's been much-anticipated.
It's the fourth bar brought to the area by Bridge Dunlap and offers an amazing new venue for Rainey Street visitors to check out. You'll love the casual atmosphere, contemporary feel and knowing that you are enjoying your drink in a beautiful bar that was surprisingly made of a recycled shipping container that was stacked on a tree-lined courtyard.
Craft Pride – 61 Rainey Street
Speaking of new additions, the newest bar to hit the area is Craft Pride. They have 54 taps and 2 cask engines of only Texas craft beer and occasional live music.
NO VA – 87 Rainey Street
Perfectly name for the theme of Austin (keep Austin weird), is NO VA, Spanish for "it doesn't go." The building is a modern, two-story building in the middle of a historic area and stands out like a sore thumb. Try a twist on your favorite cuisine like the beet marinated sirloin and check out the late-night pizza and taco menu.
There is so much to enjoy on Rainey Street. Head out there tonight and see what exciting bars and restaurants you'll come across all on one street.