St. Joseph Catholic Church - A Historic Venue
Posted by Shawn Culhane on Monday, October 26, 2015 at 6:53 PM
By Shawn Culhane / October 26, 2015
Comment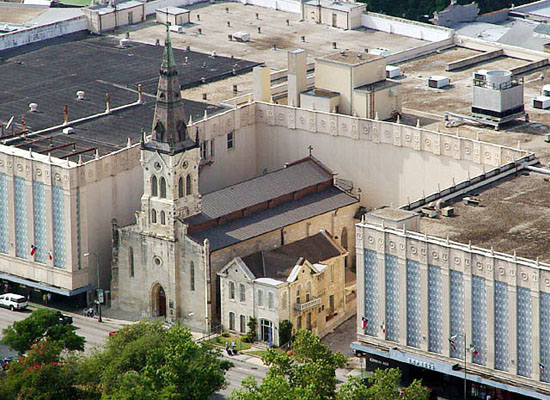 The history behind St. Joseph Catholic Church is rich and plentiful. It was constructed in 1868 by catholic immigrants from Germany who wanted a place to worship in their native tongue.
Improvements and extras
Through the years improvements were made and in 1891 four bells were bought that had matched tones. The bells were consecrated and named after their donors Joseph, Mary, Henry, and Joseph. A steeple was completed in 1898 and then in 1902 elegant stained glass windows were installed for the astounding amount of just $3,000 from Germany's Emil Frei Art Glass Factory.
In the Center of San Antonio
St. Joseph Catholic Church remains in the midst of the action in San Antonio. Due to its prime location the Joske's Department Store wanted to buy the land that the church sat on to expand the store. The decision was reached unanimously to not allow the sale of the church. The outcome is that the church still stands to this day and is referred to the "Jewel in the heart of San Antonio". It is close to the famous Alamo and is surrounded by shops, hotels, and homes.
Rich in Tradition
St. Joseph Catholic Church is home to the famous San Antonio Liederkranz, which was created in 1892. Every fourth Sunday of the month they donate their time and through liturgical song, they reveal their Faith with amazing talent by singing an assortment of songs in English, Latin, and German.
The Parish was entrusted to the Religious of the Congregation of the Blessed Sacrament in 1982 and was established by St. Peter Julian Eymard. This Religious-Apostolic Order ensures that the Eucharist is celebrated authentically to enable worshippers to grow in their faith with the Lord through the Eucharistic Adoration. It was founded in 1982 and continues to serve today.
Come see for yourself this beautiful church rich in history and tradition. Catholics and non-Catholics alike will appreciate the elegant church, the liturgical song, and the amazing history of St. Joseph Catholic Church.