Restaurant Spotlight: Via 313
Posted by Shawn Culhane on Monday, January 11, 2016 at 5:32 PM
By Shawn Culhane / January 11, 2016
Comment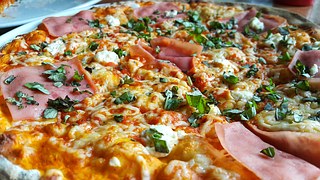 Have you been to Via 313 yet? This popular eatery in Downtown Austin is hard to beat. They are known for their hot pizza made in a Detroit style which means it's shaped like a square and baked in a deck oven. It's also known as the upside-down pizza because it's prepared with a thick Sicilian crust lined with a layer of pepperoni and covered in cheese, toppings, and red sauce.
You can find this favorite pizza joint located at one great location in Austin or at two of their original trailers for pizza-only in Austin. When you're ready for hot pizza for lunch or dinner, cold drinks, fresh salads, and beer, wine, or cocktails, stop in to Via 313 open every day in Austin.
What to expect
The motto at Via 313 is "Built Right, To the Last Bite!" This popular pizza spot is located at 6705 HWY 290 No503 in Austin and opens every day at 11am. Stop in until 10pm Sunday through Thursday or until 11pm on Fridays and Saturdays. The original trailers feature the Detroit-style pizza every night of the week and can also be found at:
The Violet Crown Social Club, 1111 East 6

th

, Austin
Craft Pride, 61 Rainey St, Austin
Why they stand out
The restaurant first started in 2011 when Zane and Brandon Hunt (known as the Hunt Brothers) brought their combined 25 years of experience in the restaurant, bar, customer service, and independent pizza fields together. They decided to serve Austin their genuine Detroit-style pizza from customized pizza trailers as well as a brick-and-mortar location.
The pizza would be prepared every day featuring the finest flours, classic baking techniques, quality cheeses and meats, and sourced from local farmers and butchers. Their goal was to offer a unique pizza experience to Austin by offering the Detroit-pizza style they grew up with as children and they continue to perfect the recipe by researching and sampling the best pizzas in the country.
The menu
The menu at Via 313 features your traditional America cuisine, along with Italian, and of course, the pizza. The square-style pizza is baked in a metal tray that you'd see in an automotive assembly line and is filled with the finest pizza ingredients from local sources. The Sicilian pizza is one-of-a-kind and showing Austinites why Detroit folks have been enjoying this pizza all along.
Start off with an appetizer such as their cheese bread, meatballs with marinara, or the stuffed artichokes. Enjoy a fresh salad such as the Caesar, House, Spinach, or Beet. Enjoy a Faygo Pop, the class Detroit soda pop since 1907, or a Vernor's Ginger Ale, another Detroit classis since 1866, and select your favorite pizza flavor.
Whether you like a Classic Cheese Pizza or you'd like to go all veggie with The Herbivore option, there is something for everyone. Try the Hawaiian, the Meatball, the Detroiter, and many more. Some choose a thin crust option called the Bar Style, which offers a crispy, yet chewy pizza with a cheesy edge. End your meal with a warm hazelnut filling inside of a fresh pizza dough known as the Piadina and enjoy your choice of cocktails, beer, and wine with your meal.
When you're ready for the most unique pizza in Austin, stop into Via 313 for hot, Detroit-style pizza, old-fashioned drinks, and a place you can visit any day of the week.