Restaurant Spotlight: Rudy's BBQ
Posted by Shawn Culhane on Wednesday, May 6, 2015 at 2:11 PM
By Shawn Culhane / May 6, 2015
Comment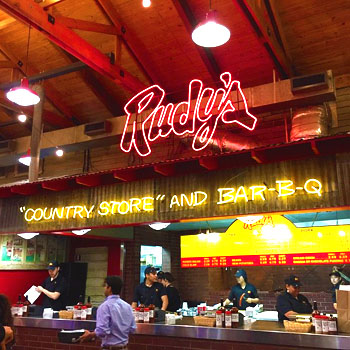 Rudy's BBQ is your one stop shop for all types of meat lathered in a variety of sauces! They are located just north of San Antonio on the edge of Texas Hill Country. Located in the small community of Leon Springs, Rudy's was founded in the 1800s by Max Aue after his son Rudolph opened a gas station, garage and grocery store all in one.
They added the BBQ joint to the store in 1989 and still use the same original recipes that were created back then. Along with using 100% wood fired with oak to prepare their meats, they have created unique spices for a tasty dish. Here is a look at what you can enjoy at Rudy's BBQ.
What to expect
Rudy's uses pits wood fired with oak which is a slower burning wood than the mesquite used by everyone else. They cook with a dry spice to ensure every place is perfect for guests. They have a famous "Sause" they apply before serving your meal. It's a truly one-of-a-kind barbeque joint in the area that you just can't beat the flavor.
Stop in for breakfast, lunch or dinner seven days a week. Located at 21361 Gulf Freeway in Webster, Texas, Rudy's serves as early as 7am each day closing at 10pm on Sunday through Thursday and 10:30pm on Fridays and Saturdays.
Menu
Even if you just want to stop in for a drink or a coffee, Rudy's has a great atmosphere. They can handle catering orders or stop in for dinner or takeout. Try the online store if you want to enjoy Rudy's barbeque from anywhere.
When you stop in for a meal, you'll love the fresh, quality Texas BBQ chocked full of flavor. Try briskets, sausage, chicken, porkloin, ribs or turkey. Pick up a gift basket for the barbeque lover in your life full of their delicious sauses.
If you're ready for some top-notch barbeque, try Rudy's for an amazing experience.