Republic Square Park is Getting a Makeover
Posted by Shawn Culhane on Tuesday, January 31, 2017 at 8:25 PM
By Shawn Culhane / January 31, 2017
Comment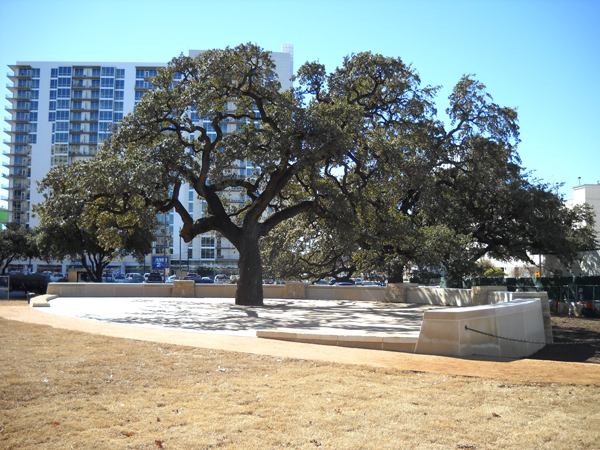 Have you heard about the changes coming to Republic Square Park? You may have seen the construction going on throughout 2016 but this project won't be finished until this summer. The public square located downtown is known for being an event hub for things like outdoor movies and farmer's markets over on Guadalupe Street, but things are in the process of changing for the better.
What's been in the works since 2012, Republic Square Park will be seeing a makeover and total redevelopment for something bigger and better. Read on to see what you can expect for this popular area of Downtown Austin for 2017.
The exciting project for Downtown Austin
It seems like it's taken forever to have changes made to this part of downtown and it's been almost two decades of actually planning and putting the effort in to redevelop Republic Square Park. What started in the summer of 2016 as the construction part of things really started long ago when the Austin Parks Foundation and PARD, along with the Downtown Austin Alliance, requested the community's stakeholders for their input on a new design back in 2012. Designers "Design Workshop" would handle the project on the public space which would lead to a few major decisions being made.
The most important items that stakeholders requested be prioritized with in the collaboration would be to reflect the spirit and character of downtown Austin in the aesthetics, to preserve any historical features and park history, to keep the park setup for informal use with a balance of some planned activities, and to make ongoing maintenance and operations sustainable.
What plans were made?
Austin Parks Foundation's goal was to honor the historic past of Republic Square while elevating its capabilities of being a prime gathering space for downtown Austin. The goal is to redevelop it to offer a circular function in a promenade style that would connect the four corners of the park for pedestrians.
Along with this better connection, there would be a central lawn designed for lawn activity. Any building materials for the hardscape would be taken from regional sources inspired by the layering effect of local waterways and creeks.
You'll find Republic Square Park located between 4th and 5th streets at Guadalupe where buses often stop and where people are often gathered in the grass waiting for shuttles. Since it sees a great deal of traffic, it was thought that offering more amenities would make sense. As of now, it has been merely a beautiful place to walk through and look at.
With the renovation project planned, the space would be redesigned to be thought of as more of a destination for downtown Austinites and other visitors looking for something to eat or a restroom break. The lawn will be well-maintained while making the park's edges more inviting. You'll still enjoy regular farmers markets, movie screenings, and potentially yoga in the park.
Expect safety to be a top priority, family-friendly amenities, and a well-maintained space. You'll still see the deck at the park that's been used as a stage, and much will be added like seating near curved walls and along edges, a promenade for strolling the park, a plaza for events, café-style seating to enjoy food vendors, a market area, a food kiosk, public restrooms, and more.
The City of Austin is working hard to revitalize the small urban park of Republic Square to bring it back to its former glory. Look forward to the final touches some time later this year where you can finally look at this as a must-see stop rather than a place to pass through.